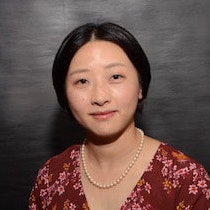 Staff Scientist & Coordinator, PDAC Models Core, Hale Family Center For Pancreatic Cancer Research
Department Of Medical Oncology, Dana-Farber Cancer Institute
Bio Research Interests Key Publications
Bio
Dr. Annan Yang, PhD is a Staff Scientist with expertise in in vivo modeling and translational research. Dr. Yang coordinates the PDAC Models Core within the Hale Family Center For Pancreatic Cancer Research. Her research uses both in vitro and in vivo models to identify new therapeutic strategies for the treatment of pancreatic ductal adenocarcinoma (PDAC).
Dr. Yang received her PhD in Cellular and Molecular Physiology from Johns Hopkins University in 2011 where she used the tools of conventional mouse genetics to study the impact of the gene dosage imbalance effect in tumorigenesis. She found that trisomy of the gene HSA21 identified in Down Syndrome patients had tumor repressive effects in intestinal neoplasia, astrocytoma, and skin carcinoma. She identified a key player, a gene called Ets2, increased expression of which was found to reduce tumor burden in mouse models. For her postdoctoral training, Dr. Yang joined the lab of Dr. Alec Kimmelman at the Dana-Farber Cancer Institute to study the role of autophagy in the development of pancreatic cancer. Currently, Dr. Yang's efforts are focused on supporting in vivo testing of novel drug compounds and other promising therapies in collaboration with Hale Center investigators, a key component of our small molecule pipeline.
Research Interests
The PDAC Models Core is interested in using model systems to identify new targets for therapy and to test the efficacy of novel and clinically available compounds. We also seek to develop novel models that faithfully predict human response to treatment.
We have an aggregated interest in CDK inhibitors in collaboration with the Gray Lab. We think that targeting the cell cycle with increasedspecificity will provide new options for the treatment of PDAC.
We also collaborate with industry to bring new drugs to clinical trials by providing preclinical evidence of efficacy in model systems.
Key Publications
Yang A, Herter-Sprie G, Zhang H, Lin EY, Biancur D, Wang X, Deng J, Hai J, Yang S, Wong KK, Kimmelman AC. Autophagy sustains pancreatic cancer growth through both cell autonomous and non-autonomous mechanisms. Cancer Discov. 2018 Mar;8(3):276-287.
Deng J, Wang ES, Jenkins RW, Li S, Dries R, Yates K, Chhabra S, Huang W, Liu H, Aref AR, Ivanova E, Paweletz CP, Bowden M, Zhou CW, Herter-Sprie GS, Sorrentino JA, Bisi JE, Lizotte PH, Merlino AA, Quinn MM, Bufe LE, Yang A, et al. CDK4/6 Inhibition Augments Anti-Tumor Immunity by Enhancing T Cell Activation. Cancer Discov. 2018 Feb;8(2):216-233.
Yang A, Currier D, Poitras JL, Reeves RH. Increased Skin Tumor Incidence and Keratinocyte Hyper-Proliferation in a Mouse Model of Down Syndrome. PLoS One, 2016 Jan 11;11(1):e0146570.
Yang A, Rajeshkumar NV, Wang X, Yabuuchi S, Alexander BM, Chu GC, Von Hoff DD, Maitra A, Kimmelman AC. Autophagy is critical for pancreatic tumor growth and progression in tumors with p53 alterations. Cancer Discov. 2014 Aug;4(8):905-13.
Mayers JR, Wu C, Clish CB, Kraft P, Torrence ME, Fiske BP, Yuan C, Bao Y, Townsend MK, Tworoger SS, Davidson SM, Papagiannakopoulos T, Yang A, et al. Elevation of circulating branched-chain amino acids is an early event in human pancreatic adenocarcinoma development. Nature Medicine, 2014 Oct;20(10):1193-8.
Yang A, Kimmelman AC. Inhibition of autophagy attenuates pancreatic cancer growth independent of TP53/TRP53 status. Autophagy, 2014 Sep;10(9):1683-4.
Yang A, Reeves RH. Increased survival following tumorigenesis in Ts65Dn mice that model Down syndrome. Cancer Research, 2011 May;71(10):3573-3581.
Sussan TE, Yang A, Li F, Ostrowski MC, Reeves RH. Trisomy represses Apc(Min)-mediated tumours in mouse models of Down's syndrome. Nature, 2008 Jan;451(7174), 73-75.