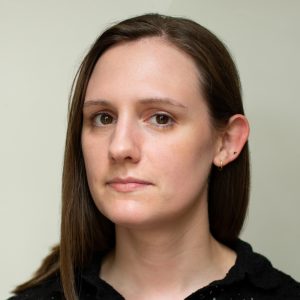 Staff Scientist & Coordinator, Hale Family Center For Pancreatic Cancer Research
Department Of Medical Oncology, Dana-Farber Cancer Institute
Bio Research Interests Key Publications
Bio
Dr. Rachel Keller, PhD is a Staff Scientist with expertise in cancer genomics and is currently working on research projects under the direction of Drs. Wolpin and Aguirre. Dr. Keller also helps with coordination of the Hale Family Center For Pancreatic Cancer Research.
Dr. Keller received her PhD in Pathology from the University Of Washington. Her thesis work focused on novel recessively-inherited forms of the skeletal dysplasia osteogenesis imperfecta (OI). After graduation, Dr. Keller accepted a position within the Knowledge Systems Group at the Dana-Farber Cancer Institute where she participated in project management and continued development of the GI TARGET (Treatment Assistance Regarding Genomic Evaluation Of Tumors) program in collaboration with the Dana-Farber Gastrointestinal Cancer Center (GCC) and the Brigham & Women's Hospital Center For Advanced Molecular Diagnostics (CAMD). The project aims to encourage and facilitate the use of patient genomic data in the course of clinical cancer care by highlighting "actionable" alterations in patient tumors identified by the targeted next-generation sequencing platform OncoPanel and recommending appropriate genomically-targeted clinical trials and therapies (along with additional clinical considerations) as a form of decision support for treating oncologists. Dr. Keller's participation in the GI TARGET program is ongoing.
Recently, Dr. Keller transitioned to a Staff Scientist role within the Hale Family Center For Pancreatic Cancer Research to provide both scientific and administrative support for all Hale Center investigators, programs, collaborations, and projects as needed.
Research Interests
Dr. Keller's research interest is in enabling precision oncology – i.e., a personalized medicine approach to the treatment of cancer – through 1) continued genomic characterization of patient tumors to identify subpopulations who might benefit from targeted interventions, e.g., alternative MAPK drivers in KRAS wild type pancreatic ductal adenocarcinoma (PDAC), and 2) facilitating the use of genomic data in routine clinical cancer care (e.g., GI TARGET).
Key Publications
Keller, R. B. et al. Monoallelic And Biallelic CREB3L1 Variant Causes Mild And Severe Osteogenesis Imperfecta, Respectively. Genet Med 20, 411–419 (2018).
Strub, G. M. et al. Endothelial And Circulating C19MC MicroRNAs Are Biomarkers Of Infantile Hemangioma. JCI Insight 1, e88856 (2016).
Keller, R. B., Demellawy, D. E., Quaglia, A., Finegold, M. & Kapur, R. P. Methylation Status Of The Chromosome Arm 19q MicroRNA Cluster In Sporadic And Androgenetic-Biparental Mosaicism–Associated Hepatic Mesenchymal Hamartoma. Pediatr Devel Pathol 18, 218–227 (2015).
Keller, R. B. et al. CTC1 Mutations In A Patient With Dyskeratosis Congenita. Pediatr Blood Cancer 59, 311–314 (2012).