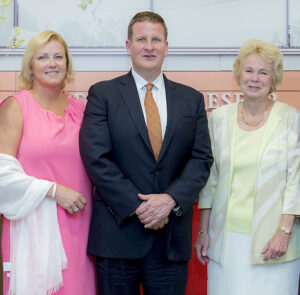 Event to honor the Hale family following their generous $15M gift. Left To Right: Karen Hale, Rob Hale Jr., Judy Hale
The Hale Family Center for Pancreatic Cancer Research is committed to improving clinical outcomes in pancreatic cancer. We will achieve this goal by uniting and fostering collaboration between clinical and research experts at Dana-Farber Cancer Institute and across the world-class biomedical community within Boston and beyond.
History Of The Hale Family Center For Pancreatic Cancer Research
The Hale family has had a profound impact on pancreatic cancer research and clinical care. Throughout the past two decades, Dana-Farber Cancer Institute trustee Judy Hale – along with her children, Rob Jr. and Beth, and their spouses, Karen and Rich – as well as the family company, Granite Telecommunications, have made significant gifts to the institute. All of their support honors the memory of Robert "Bob" T. Hale, Sr., who was treated at Dana-Farber for pancreatic cancer and who was a generous philanthropist in his own right.
Brian Wolpin, MD, MPH With Judy Hale
In 2007, the Robert T. Hale Sr. & Judith B. Hale Fund for Pancreatic Cancer Research was established, marking the beginning of a long philanthropic partnership and legacy of impact. Throughout the following years, the family's visionary philanthropy would lead to the creation of the Hale Family Center for Pancreatic Cancer at Dana-Farber, known for providing the highest quality clinical care to pancreatic cancer patients, and the Robert T. & Judith B. Hale Chair In Pancreatic Cancer at Dana-Farber, currently held by Brian Wolpin, MD, MPH.
In 2015, a gift naming the Hale Family Center for Pancreatic Cancer Research enabled support of pancreatic cancer-focused Dana-Farber investigators and their collaboration with top talent both within the Institute and across the Boston biomedical community toward the shared goal of eradicating pancreatic cancer. The Hale Center has attracted world class experts in gene discovery, functional genomics, chemical biology, computational biology, immunotherapy, and model system development, as well as individuals in clinical roles, including radiology, pathology, and clinical trials. This collaborative research environment has resulted in the creation of a pipeline for innovation in the areas of detection and treatment of pancreatic cancer, translating high impact research findings into potential new therapies for patients.
One such innovation included the contribution by Dana-Farber researchers to enact two changes in national guidelines for all patients with pancreatic cancer. Guidelines now recommend inherited genetic testing and tumor DNA sequencing for all patients with a new diagnosis of pancreatic cancer. Further, the team established one of the most sophisticated clinical trials programs for pancreatic cancer at any cancer center in the world, with the work of this group contributing to the first targeted drug approval for patients with pancreatic cancer. The support from the Hale family also helped Dana-Farber to establish a comprehensive early detection program for patients with inherited risk of pancreatic cancer, which is now the model for the rest of the country. These tremendous accomplishments, in addition to many others, have spurred the Hale family and Dana-Farber to continue its work together.
Continuing their family's deep commitment to conquering pancreatic cancer, Judy, Rob Jr., and his wife, Karen, pledged an additional $50 million to Dana-Farber in 2021. This gift, one of the largest single gifts in the Institute's history, supports a wide range of ambitious work in two main areas of pancreatic cancer research: early detection and prevention, and precision medicine and biology. This gift will advance the launch of teams of scientists who will leverage health system data to identify those at highest risk for pancreatic cancer, detect it earlier through new imaging approaches and blood tests, and develop new treatments for pre-invasive and early invasive pancreatic cancers. The center will also investigate the biology and interplay of pancreatic cancer cells, the immune system, and stromal cells, and develop a series of clinical trials to test new therapies based upon discoveries from these initiatives.
In addition to the Hale Family's personal giving, their corporate philanthropy through Granite Telecommunications has been a powerful engine of support for Dana-Farber. In 2014, the company started a flagship event, Saving By Shaving, during which Granite staff, along with local celebrities and government officials, shave their heads in a show of solidarity with patients undergoing cancer treatment. The Hale Family would make a gift to Dana-Farber on behalf of each person who took a turn in the barber's chair. The company also held an annual Granite Day carnival to benefit Dana-Farber, featuring entertainment, rides, and family fun that attracted thousands of attendees. Since 2008, Granite's annual events have raised millions of dollars in support of Dana-Farber.
Saving By Shaving Event 2018