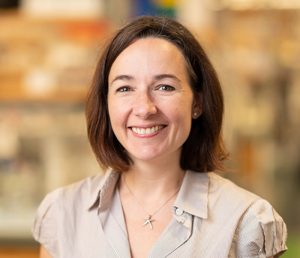 Investigator, Hale Family Center For Pancreatic Cancer Research
Department Of Cancer Immunology And Virology, Dana-Farber Cancer Institute
Assistant Professor Of Microbiology And Immunobiology, Harvard Medical School
Bio Research Interests Key Publications
Bio
Dr. Stephanie Dougan received her PhD in immunology from Harvard University, where she studied lipid antigen presentation by CD1d and NKT cell development with Richard Blumberg. She then performed a postdoctoral fellowship with Hidde Ploegh at the Whitehead Institute, where she became adept in somatic cell nuclear transfer and embryo manipulation for the purpose of generating transnuclear and CRISPR genome-modified mice.
Dr. Dougan joined the faculty at Harvard Medical School (HMS) and Dana-Farber Cancer Institute in 2014, where her lab uses unique mouse models to study the immune response to tumors. She is particularly interested in tumors that do not induce a CD8 T cell response at baseline, and has been using pancreatic cancer as a model to develop new immunotherapies for non-T cell infiltrated tumors.
Dr. Dougan is the course director for the Harvard Immunology Summer Undergraduate Program, the co-director for the graduate school class Immunology 201, and the course director for an Advanced Integrated Science course in immunology for third-year HMS medical students.
Research Interests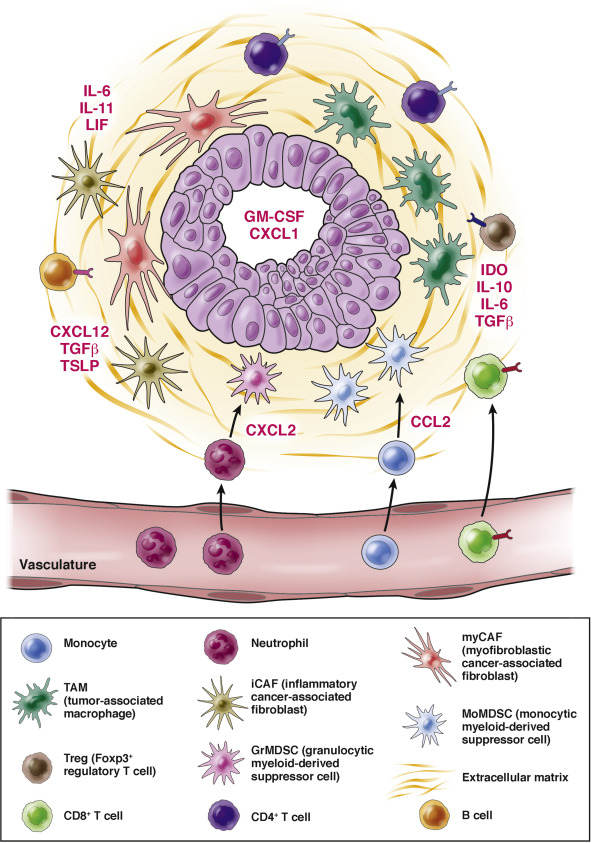 The pancreatic cancer microenvironment is an interconnected array of cell types, many of which are hematopoietic in origin. The Dougan Lab studies how to manipulate the immune microenvironment in pancreatic cancer for therapeutic benefit.The Dougan Lab studies immunotherapy for cancer using novel mouse models. We have a particular interest in pancreatic cancer, given the deadly nature of this disease.
Our specific interest is in understanding why pancreatic cancers are so refractory to immunotherapy. We do not fully understand how tumor-specific T cells infiltrate densely fibrotic pancreatic tumors, or how to recruit more activated T cells to the tumor mass. Our lab is developing novel strategies to address this question.
We take a comprehensive approach, combining in vitro immunology assays and novel transnuclear and CRISPR genome-edited mice to probe the determinants of anti-tumor immunity. We are collaborating with other members of the Hale Family Center For Pancreatic Cancer Research to profile the pancreatic tumor microenvironment, and to test how targeted therapies affect the immune response to pancreatic cancer.
Key Publications
Dougan M, Dranoff G, Dougan SK. GM-CSF, IL-3, and IL-5 Family of Cytokines: Regulators of Inflammation. Immunity. 2019 Apr 16;50(4):796-811.
Balachandran VP, Beatty GL, Dougan SK. Broadening the impact of immunotherapy to pancreatic cancer: Challenges and opportunities. Gastroenterology. 2019 Jan 17.
Dougan M, Dranoff G, Dougan SK. Cancer Immunotherapy: Beyond Checkpoint Blockade. Annual Review of Cancer Biology. March 2019. Vol. 3:55-75.
Yasmin-Karim S, Bruck PT, Moreau M, Kunjachan S, Chen GZ, Kumar R, Grabow S, Dougan SK*, Ngwa W*. Radiation and Local Anti-CD40 Generate an Effective in situ Vaccine in Preclinical Models of Pancreatic Cancer. Front Immunol. 2018 Sep 7;9:2030.
Clancy-Thompson E, Devlin CA, Tyler PM, Servos MM, Ali LR, Ventre KS, Bhuiyan MA, Bruck PT, Birnbaum ME, Dougan SK. Altered Binding of Tumor Antigenic Peptides to MHC Class I Affects CD8+ T Cell-Effector Responses. Cancer Immunol Res. 2018 Dec;6(12):1524-1536.
Dougan M, Ingram JR, Jeong HJ, Mosaheb MM, Bruck PT, Ali L, Pishesha N, Blomberg O, Tyler PM, Servos MM, Rashidian M, Nguyen QD, von Andrian UH, Ploegh HL, Dougan SK. Targeting Cytokine Therapy to the Pancreatic Tumor Microenvironment Using PD-L1-Specific VHHs. Cancer Immunol Res. 2018 Apr;6(4):389-401.
Ingram JR, Blomberg OS, Rashidian M, Ali L, Garforth S, Fedorov E, Fedorov AA, Bonanno JB, Le Gall C, Crowley S, Espinosa C, Biary T, Keliher EJ, Weissleder R, Almo SC, Dougan SK, Ploegh HL, Dougan M. Anti-CTLA-4 therapy requires an Fc domain for efficacy. Proc Natl Acad Sci U S A. 2018 Apr 10;115(15):3912-3917.
Krall JA, Reinhardt F, Mercury OA, Pattabiraman DR, Brooks MW, Dougan M, Lambert AW, Bierie B, Ploegh HL, Dougan SK, Weinberg RA. The systemic response to surgery triggers the outgrowth of distant immune-controlled tumors in mouse models of dormancy. Sci Transl Med. 2018 Apr 11;10(436).
Dougan SK, Dougan M. Regulation of innate and adaptive antitumor immunity by IAP antagonists. Immunotherapy. 2018 May 29.
Heckler M, Dougan SK. Unmasking Pancreatic Cancer: Epitope Spreading After Single Antigen Chimeric Antigen Receptor T-Cell Therapy in a Human Phase I Trial. Gastroenterology. 2018 Jun 6.
Ingram JR, Blomberg O, Ali L, Pisheali N, Sockolosky J, Garcia KC, Dougan SK, Ploegh HL, Dougan M. Localized CD47 blockade enhances immunotherapy for murine melanoma. PNAS, 2017 Sep 19;114(38):10184-10189.
Clancy-Thompson E, Ali L, Bruck PT, Exley MA, Blumberg RS, Dranoff G, Dougan M, Dougan SK. IAP Antagonists Enhance Cytokine Production from Mouse and Human iNKT Cells. Cancer Immunol Res. 2018 Jan;6(1):25-35.
Zhou P, Shaffer DR, Alvarez Arias DA, Nakazaki Y, Pos W, Torres AJ, Cremasco V, Dougan SK, Cowley GS, Elpek K, Brogdon J, Lamb J, Turley SJ, Ploegh HL, Root DE, Love JC, Dranoff G, Hacohen N, Cantor H, Wucherpfennig KW. In vivo discovery of immunotherapy targets in the tumour microenvironment. Nature. 2014 Feb 6;506(7486):52-7.
Dougan SK, Dougan M, Kim J, Turner JA, Ogata S, Cho HI, Jaenisch R, Celis E, Ploegh HL. Transnuclear TRP1-specific CD8 T cells with high or low affinity TCRs show equivalent anti-tumor activity. Cancer Immunol Res. 2013 Aug;1:99-111.
Dougan M, Dougan S, Slisz J, Firestone B, Vanneman M, Draganov D, Goyal G, Li W, Neuberg D, Blumberg R, Hacohen N, Porter D, Zawel L, Dranoff G. IAP inhibitors enhance co-stimulation to promote tumor immunity. J Exp Med. 2010; 207(10):2195-206.