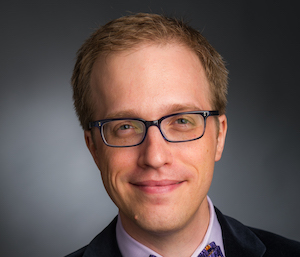 Investigator, Hale Family Center For Pancreatic Cancer Research
Department Of Imaging, Dana-Farber Cancer Institute
Department Of Radiology, Brigham And Women's Hospital
Assistant Professor Of Radiology, Harvard Medical School
Bio Research Interests Key Publications
Bio
Dr. Michael Rosenthal, MD, PhD is a diagnostic radiology physician-scientist at the Dana-Farber Cancer Institute and Brigham And Women's Hospital, and an Assistant Professor Of Radiology at Harvard Medical School. He specializes in the imaging of gastrointestinal cancers with a focus on pancreatic cancers. He also leads a data science research group that seeks to extract novel imaging biomarkers from routine imaging studies that can enhance the understanding and management of cancer.

Dr. Rosenthal received his medical degree and his PhD in Computer Science from the University Of North Carolina at Chapel Hill. As part of his doctoral work he developed methods for three-dimensional guidance of minimally invasive interventional radiology procedures, including methods for real-time image analysis and statistical object recognition. He completed a residency in diagnostic radiology at Brigham and Women's Hospital, and a fellowship in cancer imaging at the Dana-Farber Cancer Institute.
Research Interests
Dr. Rosenthal's current work centers on extracting useful biomarkers from diagnostic imaging studies to improve our understanding and treatment of gastrointestinal cancers. We work in collaboration with the Wolpin Lab as well as the MGH-BWH Center For Clinical Data Sciences (https://www.ccds.io) and the Dana-Farber Informatics and Analytics group.

Our group has developed methods for automatically measuring body and fat mass from routine CT scans, which can serve as a marker for the metabolic changes of cancer. We have recently shown that this method can be used to analyze CT scans with results that are equivalent to the work of human experts. We have now analyzed over 100,000 scans to understand how muscle and fat are distributed in the general population so that we can better understand how cancer affects those values. Our team is also developing methods to automatically identify and measure tumor volumes, which may be helpful in understanding tumor growth and release of association circulating biomarkers. We are applying these techniques to the problem of identifying individuals who are at-risk for future pancreatic cancer by analyzing CT scans that are performed as part of routine care.
Key Publications
Gurjao C, Liu D, Hofree M, AlDubayan SH, Wakiro I, Su MJ, Felt K, Gjini E, Brais LK, Rotem A, Rosenthal MH, Rozenblatt-Rosen O, Rodig S, Ng K, Van Allen EM, Corsello SM, Ogino S, Regev A, Nowak JA, Giannakis M. Intrinsic Resistance to Immune Checkpoint Blockade in a Mismatch Repair Deficient Colorectal Cancer. Cancer Immunol Res. 2019. Epub 2019/06/21. doi: 10.1158/2326-6066.CIR-18-0683. PubMed PMID: 31217164.
Gollub MJ, Lall C, Lalwani N, Rosenthal MH. Current controversy, confusion, and imprecision in the use and interpretation of rectal MRI. Abdom Radiol (NY). 2019. Epub 2019/05/08. doi: 10.1007/s00261-019-01996-3. PubMed PMID: 31062058.
Thomas R, Rosenthal MH, Ghouri M, Steigner ML. Infundibulum of the common origin of fourth lumbar arteries and median sacral artery. J Med Imaging Radiat Oncol. 2018. Epub 2018/03/25. doi: 10.1111/1754-9485.12724. PubMed PMID: 29573579.
Howard SA, Rosenthal MH, Qin L, Matalon SA, Bernard BD, Beard CJ, Sweeney CJ. Quantifying Decreased Radiation Exposure From Modern CT Scan Technology and Surveillance Programs of Germ Cell Tumors. Am J Clin Oncol. 2018;41(10):949-52. Epub 2017/06/28. doi: 10.1097/COC.0000000000000399. PubMed PMID: 28654572.
Danai LV, Babic A, Rosenthal MH, Dennstedt EA, Muir A, Lien EC, Mayers JR, Tai K, Lau AN, Jones-Sali P, Prado CM, Petersen GM, Takahashi N, Sugimoto M, Yeh JJ, Lopez N, Bardeesy N, Fernandez-Del Castillo C, Liss AS, Koong AC, Bui J, Yuan C, Welch MW, Brais LK, Kulke MH, Dennis C, Clish CB, Wolpin BM, Vander Heiden MG. Altered exocrine function can drive adipose wasting in early pancreatic cancer. Nature. 2018;558(7711):600-4. Epub 2018/06/22. doi: 10.1038/s41586-018-0235-7. PubMed PMID: 29925948; PMCID: PMC6112987.
Chawla A, Rosenthal MH, Clancy TE. Implications of the replaced right hepatic artery originating from the gastroduodenal artery in the setting of a pancreatic head mass. Clin Imaging. 2018;52:189-92. Epub 2018/08/14. doi: 10.1016/j.clinimag.2018.07.024. PubMed PMID: 30103107.
Aguirre AJ, Nowak JA, Camarda ND, Moffitt RA, Ghazani AA, Hazar-Rethinam M, Raghavan S, Kim J, Brais LK, Ragon D, Welch MW, Reilly E, McCabe D, Marini L, Anderka K, Helvie K, Oliver N, Babic A, Da Silva A, Nadres B, Van Seventer EE, Shahzade HA, St Pierre JP, Burke KP, Clancy T, Cleary JM, Doyle LA, Jajoo K, McCleary NJ, Meyerhardt JA, Murphy JE, Ng K, Patel AK, Perez K, Rosenthal MH, Rubinson DA, Ryou M, Shapiro GI, Sicinska E, Silverman SG, Nagy RJ, Lanman RB, Knoerzer D, Welsch DJ, Yurgelun MB, Fuchs CS, Garraway LA, Getz G, Hornick JL, Johnson BE, Kulke MH, Mayer RJ, Miller JW, Shyn PB, Tuveson DA, Wagle N, Yeh JJ, Hahn WC, Corcoran RB, Carter SL, Wolpin BM. Real-time Genomic Characterization of Advanced Pancreatic Cancer to Enable Precision Medicine. Cancer Discov. 2018;8(9):1096-111. Epub 2018/06/16. doi: 10.1158/2159-8290.CD-18-0275. PubMed PMID: 29903880; PMCID: PMC6192263.
Perez K, Clancy TE, Mancias JD, Rosenthal MH, Wolpin BM. When, What, and Why of Perioperative Treatment of Potentially Curable Pancreatic Adenocarcinoma. J Clin Oncol. 2017;35(5):485-9. Epub 2016/12/29. doi: 10.1200/JCO.2016.70.2134. PubMed PMID: 28029328; PMCID: PMC5455317.
Wortman JR, Tirumani SH, Jagannathan JP, Rosenthal MH, Shinagare AB, Hornick JL, Baldini EH, Ramaiya NH. Radiation Therapy for Soft-Tissue Sarcomas: A Primer for Radiologists. Radiographics. 2016;36(2):554-72. Epub 2016/03/11. doi: 10.1148/rg.2016150083. PubMed PMID: 26963462.
Tirumani SH, Shinagare AB, O'Neill AC, Nishino M, Rosenthal MH, Ramaiya NH. Accuracy and feasibility of estimated tumour volumetry in primary gastric gastrointestinal stromal tumours: validation using semiautomated technique in 127 patients. Eur Radiol. 2016;26(1):286-95. Epub 2015/05/21. doi: 10.1007/s00330-015-3829-6. PubMed PMID: 25991487; PMCID: PMC4654722.