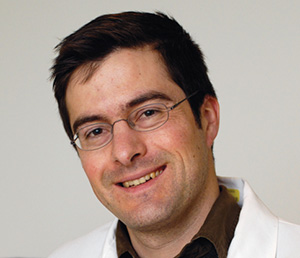 Investigator, Hale Family Research Center
Department Of Cancer Biology, Dana-Farber Cancer Institute
Nancy Lurie Marks Professor Of Biological Chemistry And Molecular Pharmacology In The Field Of Medical Oncology, Harvard Medical School
Bio Research Interests Key Publications
Bio
Dr. Nathanael Gray received his PhD in organic chemistry from the University Of California, Berkeley in 1999. He is currently the Nancy Lurie Marks Professor Of Biological Chemistry And Molecular Pharmacology at Harvard Medical School and Dana-Farber Cancer Institute.
His research utilizes the tools of synthetic chemistry, protein biochemistry, and cancer biology to discover and validate new strategies for the inhibition of anti-cancer targets.
Dr. Gray's research has had broad impact in the areas of kinase inhibitor design and in circumventing drug resistance. He has established a discovery chemistry group that focuses on developing first-in-class inhibitors for newly emerging biological targets, including resistant alleles of existing targets, as well as inhibitors of well-validated targets, such as HER3 and RAS, that have previously been considered recalcitrant to small molecule drug development.
Research Interests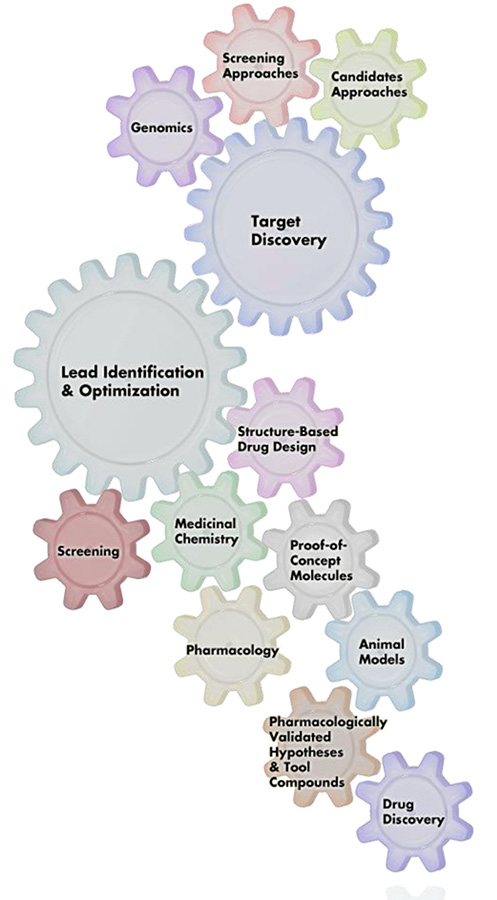 The interlocking gears of endeavor required to advance an experimental therapeutic agent.
Dr. Gray is a recognized leader in the field of chemical biology and small molecule protein kinase inhibitors. He is an expert in the disciplines of combinatorial, medicinal chemistry, and small molecule mechanism of action studies.
Dr. Gray has contributed to the development of an approved drug for the treatment of non-small cell lung cancer, Ceritinib, an inhibitor of the EML4-ALK oncoprotein, and of several kinase inhibitors currently undergoing clinical evaluation.
Dr. Gray and his team were also responsible for developing the drug NVP-BAF312, an agonist of the sphingosine-1-phosphate receptors, which is currently in a phase III clinical study for the treatment of multiple sclerosis (MS).
Dr. Gray has contributed to the basic elucidation of new kinase inhibitory mechanisms, such as the discovery of the first allosteric inhibitors of Bcr-Abl (GNF-2/5), the discovery of the first potent inhibitors of EML4-ALK kinase (TAE684), the development of the first mutant specific inhibitors of T790M EGFR (WZ4002), the first covalent inhibitors of JNK (JNK-IN-8), the first selective and brain penetrant inhibitors of LRRK2, and the first covalent inhibitors of CDK7 (THZ1).
Key Publications
Zeng M, Lu J, Li L, Feru F, Quan C, Gero TW, Ficarro SB, Xiong Y, Ambrogio C, Paranal RM, Catalano M, Shao J, Wong KK, Marto JA, Fischer ES, Janne PA, Scott DA, Westover KD, Gray NS. Potent and Selective Covalent Quinazoline Inhibitors of KRAS G12C. Cell Chem Biol. 2017;24(8):1005-16 e3. doi: 10.1016/j.chembiol.2017.06.017. PubMed PMID: 28781124.
Xiong Y, Lu J, Hunter J, Li L, Scott D, Choi HG, Lim SM, Manandhar A, Gondi S, Sim T, Westover KD, Gray NS. Covalent Guanosine Mimetic Inhibitors of G12C KRAS. ACS Med Chem Lett. 2017;8(1):61-6. doi: 10.1021/acsmedchemlett.6b00373. PubMed PMID: 28105276; PMCID: PMC5238463.
Olson CM, Jiang B, Erb MA, Liang Y, Doctor ZM, Zhang Z, Zhang T, Kwiatkowski N, Boukhali M, Green JL, Haas W, Nomanbhoy T, Fischer ES, Young RA, Bradner JE, Winter GE, Gray NS. Pharmacological perturbation of CDK9 using selective CDK9 inhibition or degradation. Nat Chem Biol. 2017. doi: 10.1038/nchembio.2538. PubMed PMID: 29251720.
Deng J, Wang ES, Jenkins RW, Li S, Dries R, Yates K, Chhabra S, Huang W, Liu H, Aref AR, Ivanova E, Paweletz CP, Bowden M, Zhou CW, Herter-Sprie GS, Sorrentino JA, Bisi JE, Lizotte PH, Merlino AA, Quinn MM, Bufe LE, Yang A, Zhang Y, Zhang H, Gao P, Chen T, Cavanaugh ME, Rode AJ, Haines E, Roberts PJ, Strum JC, Richards WG, Lorch JH, Parangi S, Gunda V, Boland GM, Bueno R, Palakurthi S, Freeman GJ, Ritz J, Haining WN, Sharpless NE, Arthanari H, Shapiro GI, Barbie DA, Gray NS, Wong KK. CDK4/6 Inhibition Augments Anti-Tumor Immunity by Enhancing T Cell Activation. Cancer Discov. 2017. doi: 10.1158/2159-8290.CD-17-0915. PubMed PMID: 29101163.
Zhang T, Kwiatkowski N, Olson CM, Dixon-Clarke SE, Abraham BJ, Greifenberg AK, Ficarro SB, Elkins JM, Liang Y, Hannett NM, Manz T, Hao M, Bartkowiak B, Greenleaf AL, Marto JA, Geyer M, Bullock AN, Young RA, Gray NS. Covalent targeting of remote cysteine residues to develop CDK12 and CDK13 inhibitors. Nat Chem Biol. 2016;12(10):876-84. doi: 10.1038/nchembio.2166. PubMed PMID: 27571479; PMCID: PMC5033074.
Westover KD, Janne PA, Gray NS. Progress on Covalent Inhibition of KRAS(G12C). Cancer Discov. 2016;6(3):233-4. doi: 10.1158/2159-8290.CD-16-0092. PubMed PMID: 26951837.
Wang Y, Zhang T, Kwiatkowski N, Abraham BJ, Lee TI, Xie S, Yuzugullu H, Von T, Li H, Lin Z, Stover DG, Lim E, Wang ZC, Iglehart JD, Young RA, Gray NS, Zhao JJ. CDK7-dependent transcriptional addiction in triple-negative breast cancer. Cell. 2015;163(1):174-86. doi: 10.1016/j.cell.2015.08.063. PubMed PMID: 26406377; PMCID: PMC4583659.
Lim SM, Westover KD, Ficarro SB, Harrison RA, Choi HG, Pacold ME, Carrasco M, Hunter J, Kim ND, Xie T, Sim T, Janne PA, Meyerson M, Marto JA, Engen JR, Gray NS. Therapeutic targeting of oncogenic K-Ras by a covalent catalytic site inhibitor. Angew Chem Int Ed Engl. 2014;53(1):199-204. doi: 10.1002/anie.201307387. PubMed PMID: 24259466; PMCID: PMC3914205.
Kwiatkowski N, Zhang T, Rahl PB, Abraham BJ, Reddy J, Ficarro SB, Dastur A, Amzallag A, Ramaswamy S, Tesar B, Jenkins CE, Hannett NM, McMillin D, Sanda T, Sim T, Kim ND, Look T, Mitsiades CS, Weng AP, Brown JR, Benes CH, Marto JA, Young RA, Gray NS. Targeting transcription regulation in cancer with a covalent CDK7 inhibitor. Nature. 2014;511(7511):616-20. doi: 10.1038/nature13393. PubMed PMID: 25043025; PMCID: PMC4244910.
Christensen CL, Kwiatkowski N, Abraham BJ, Carretero J, Al-Shahrour F, Zhang T, Chipumuro E, Herter-Sprie GS, Akbay EA, Altabef A, Zhang J, Shimamura T, Capelletti M, Reibel JB, Cavanaugh JD, Gao P, Liu Y, Michaelsen SR, Poulsen HS, Aref AR, Barbie DA, Bradner JE, George RE, Gray NS, Young RA, Wong KK. Targeting transcriptional addictions in small cell lung cancer with a covalent CDK7 inhibitor. Cancer Cell. 2014;26(6):909-22. doi: 10.1016/j.ccell.2014.10.019. PubMed PMID: 25490451; PMCID: PMC4261156.